With Time Health Can Return
---
From time to time, a patient will respond with a single chiropractic adjustment. Virtually all of us in the Black Hills Chiropractic Society have had a patient or two who has received the results they wanted with just a single chiropractic adjustment.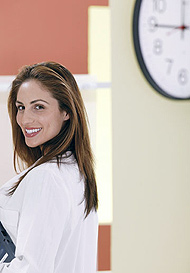 They often reach the conclusion that that's all the chiropractic care they need. Sure, they may be feeling better, but to make lasting changes, especially with chronic, long-standing problems, it usually requires a series of adjustments over weeks and months to retrain supporting muscles and ligaments of the spine.
Everyone responds differently.
Thankfully, many in Black Hills follow their chiropractor's advice and continue to receive the care necessary to affect more lasting results. Continuing to see a doctor when you feel great may seem strange. However, chiropractors are leading the way in an entirely new field called "wellness." And it all starts with a nervous system that is functioning at its very best.
Start your care today by visiting with a Black Hills Chiropractic Society member listed on the right hand side of your screen.